Bio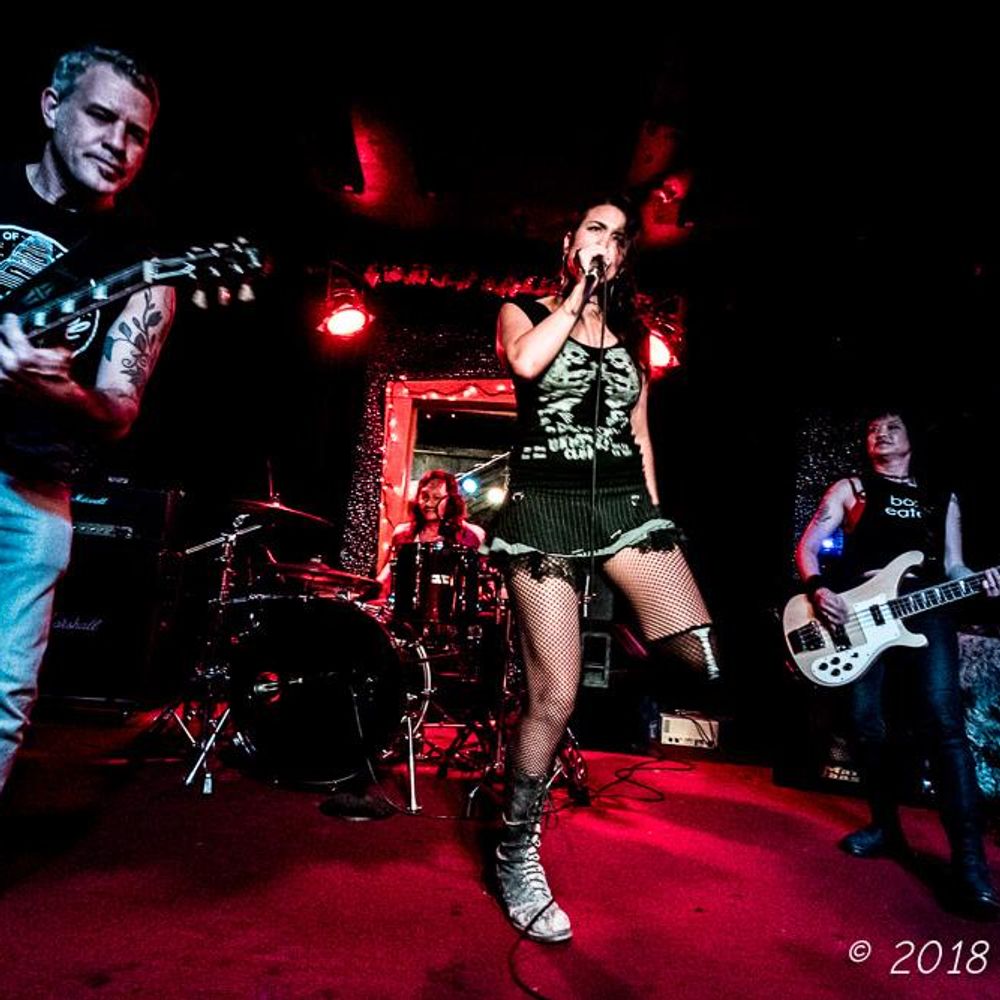 A new generation of Punk is rising, infused with what originally made Punk Rock great –raw power, combined with a socially conscious worldview.
Fronted by powerful female vocals, The NERV packs a punch with their heavy, driving beats and brutal, in-your-face instrumentation combined with provocative lyrical content.
THE NERV was born in San Francisco in 2007 with Nis Anthrope on the mic, Christ Campbell and Chain Martinez (both of Wrong Approach) on guitars, El Carcass (The Rinds) and Ricky Wayne Garrett (Inferno of Joy) on the drums. Nis and Chris were later joined by bassist Dede Lee (Kittenhead, Jack Killed Jill) and drummer Chris Gaw who built the butt in the Sir Mixalot video "Baby Got Back." The NERV has collaborated with drummers Andy V. Galleon (Death Angel), featured on "Trust In Fire" (LP, 2016), Paul Hopkins (Skinlab), Genesis Valentine (BrainChile, The Golden Hexagrams), Mike86 (Nihilist Cunt), and Clitty Bob Powers (Mennaquin Planet, Zombie Morita).
As a political group, THE NERV has no shortage of inspiration. Originally raging against George W Bush and the erosion of civil liberties on domestic soil with the Patriot Act, THE NERV self-released "The Now Crisis" (Vinyl LP, 2009) on joke label, Capitalist Records. Fueled by the #Occupy movement and outrage at police brutality witnessed in the Bay Area, specifically the shooting of Oscar Grant in a BART train station, THE NERV created Epic Failure Records to self-release "Decivilized" (EP, 2011) #BlackLivesMatter. THE NERV originally self-released their third album "Trust In Fire" as Stony Records, but in 2016 they signed with punk label Die Laughing Records to re-release and distribute "Trust In Fire" globally.
THE NERV's fourth album "Standard Deviant" was originally released on DIe Laughing Records, but the label has since folded. The band is currently working on digitally re-releasing their entire catalog and recording their final EP.
THE NERV has shared stages with punk and hardcore greats including D.R.I., D.O.A., Agent Orange, The Dickies, The Vandals, T.S.O.L, PHILM (feat. Dave Lombardo of Slayer), The Queers, The Undead (feat. Bobby Steele of the Misfits), Unwritten Law, Lagwagon, Lower Class Brats, The Freeze, Battalion of Saints, and The Tubes.
"We believe in the power of music and art to create social change on a systemic level. The NERV stands for emancipation, empowerment, and compassion for all forms of life. We sing to overthrow systems that perpetuate oppression." ~ Nis Anthrope
"Hard work, hard music, good friends and good times." ~ Christ Campbell